Memoriam

Edward M. Willy
1953 – 2015
Edward M. Willy, age 62, of Cibolo, Texas passed away on July 28, 2015. His passion was history, and he was very involved with several re-enactment groups portraying Texas history at locations such as The Alamo, Goliad, and San Jacinto with his sons and friends. Ed loved the outdoors – he enjoyed hunting, fishing, and muzzle-loading rifles. Always learning, he could perpetually be found with a book or a tool in his hand. He worked for several businesses before opening his own machine shop called T.W. Machinery. He later took his love of tools and printing to a new level as he worked as a mechanic for both Heidelberg and later KBA Printing. He was currently employed at Caterpillar as a machinist and was looking forward to opening a sutlery business after retirement. Ed is survived by his wife of 35 years, Shani Willy of Cibolo and sons Chad and Matthew Willy both of Cibolo, and man's best friends Duke and Zeus. He is also survived by his mother, Joyce Gould, and sisters Jeanette Iverson, and Melanie Pulos, and by loving in-laws, nieces, nephews and great many longtime friends. Ed was a loving husband, a role model and a great mentor to his sons, he will be greatly missed but never forgotten. A memorial service will be held for Ed on Saturday, August 8, 2015, 11:00am, at the Schertz Funeral Home chapel in Schertz, Texas; Schertz Funeral Home – Schertz, 2217 F.M. 3009, Schertz, TX 78154. Ed will have a Honor Guard present at his funeral. Ed portrayed many impressions in the Texas Revolution living history community; while his favorite impression was that of a New Orleans Grey, his willing servitude will be greatly missed. – See more at: Legacy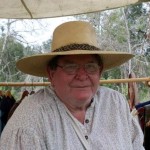 Larry Brooks
1944 – 2015
Larry Brooks, 71, passed away on Wednesday, June 24, 2015 in Corpus Christi, Texas. Larry Quentin Brooks was born March 2, 1944 in Big Spring, Howard Co., Texas to Leroy Bee and Oretha Cook Brooks. Larry grew up in Ballinger and Corpus Christi, Texas. After being involved in numerous Rendezvous and Reenactments in 1985 Larry was a founding member of the Texas Pioneer Muzzleloaders, and was active in the organization throughout its duration. Larry was also an active member of Crossroads of Texas Living History Association, in which he served as Camp Coordinator of the Fannin Massacre Reenactment for many years. As an Honorary Member of Captain Shackelford's Company of Alabama Red Rovers, Larry took great pride in the clothier of the Alabama Red Rovers, with the frocks that were dyed with his recipe to match Alabama dirt. Larry enjoyed sewing and producing affordable historical garments for his friends in the reenacting hobby through his Keep Your Powder Dry Emporium. Larry will be greatly missed. A memorial service for Larry Brooks is pending.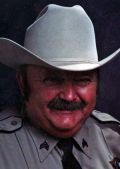 William "Bill" R. Stone
1939 – 2009
William "Bill" Stone, 69, of Midland, passed away Wednesday, May 20, 2009, at home. Funeral services will be held at 2:00 p.m., Friday, May 22, 2009 at Fairmont Park Church of Christ in Midland with Scott Sheppard, officiating. Interment will follow at Resthaven Memorial Park in Midland.
Pallbearers will be Darrell Rhea, Lee Hise, Benny Matlock, Ken Griffin, Wade Mitchell and Fred Stubbs.
Bill was born December 21, 1939, in Hereford, Texas to Doris and William P. Stone. He married Mary Ellen Roberts on September 2, 1960 in Littlefield, Texas. They lived in the Midland community since 1974.
Bill loved his kids and horses. His grandchildren were his whole life. He never met a stranger and was everybody's friend. He was the first to volunteer to help anybody out. He was a loving husband, dad, granddad and great-granddad.
Bill was a member of Midland County Sheriff's Office, from which he retired, Mounted Patrol, Howard County Sheriff's Posse, Dunn Holt Midkiff Sons of the Confederate Veterans, Friends of Fort Lancaster, Co. H Seventh Texas Infantry and Alabama Red Rovers. He was a proud member of the Cherokee nation.
Survivors include wife, Mary Ellen of Midland; daughter, Terecia Martin of McKinney; son, Scott Stone and wife Ginny of Midland; grandchildren, Krystal Baird of Midland, Billy Martin of Carrollton, Tesligh Stone and Baleigh Stone of Midland; great-granddaughter, Lauren Haile of Midland; and cousins, aunts and uncles.He was preceded in death by his parents, William and Doris Hardin Stone, son, Billy Paul Stone and cousin, Larry Carroll.
The family suggests memorials be made to Dunn Holt Midkiff Sons of Confederate Veterans, P.O. Box 3865, Midland, TX 79702.
Arrangements are under the direction of Nalley-Pickle & Welch Funeral Home & Crematory of Midland. Online condolences can be made at www.npwelch.com.
Published in Midland Reporter-Telegram on May 22, 2009
by William V. Scott