Living History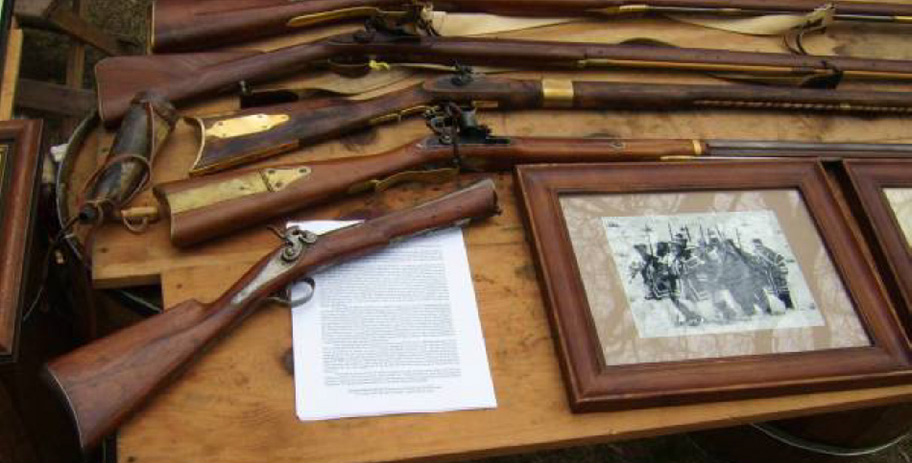 Periodically through the year Captain Shackelford's Company of Alabama Red Rovers presents Living History Demonstrations for Schools, Festivals and Historical Sites. Living history is an activity that incorporates historical tools, happenings and dress into an interactive presentation that seeks to give observers and participants a sense of stepping back in time. Some of the Living History Demonstrations that Captain Shackelford's Company of Alabama Red Rovers specialize in are:
CAMP COOKING – Cooking over an open fire just like the Pioneers did

COINS AND CURRENCY– coinage of the period, including American, Mexican and Spanish

CURANDERISIMO – Mexican Herbal Medicine

FIRE STARTING – Starting a Fire using Flint and Steel

FLAG OF THE TEXAS REVOLUTION AND REPUBLIC – Set of 20+ full-size historicaly based flags

MEDICAL DOCTOR – demonstrations and tools of the trade of a 19th Century Doctor

MILITARY DRILL – Step into the rank and file of the Texian Army

PERIOD GAMES – Soldiers passed the time with games like; Nine Pin, Chess, Cards and Dominoes

QUILL WRITING – A quill was used to write all of our founding documents, try your hand

RANCHING HERITAGE – An explanation of South Texas Ranching through Branding Irons and Roping

SHOOTING DEMONSTRATION – Learn how a muzzle loader works, both Flintlock or Percussion ignition

TAVERN – Experience a historically accurate tavern, like where most of the revolution was staged

TEXAS TRACKS – an overview of the native Texas wildlife that roams or inhabits Texas

by William V. Scott with no comments yet.