History
A Brief History of the Alabama Red Rovers
by William V. Scott
In November of 1835, urges for help went out to newspapers throughout the United States. One such urge printed in the Huntsville Democrat read:
"If Volunteers from the U. States will join their brethren in this section, they will receive liberal bounties of land. We have millions of acres of our best land unchosen and unappropriated. Let each man come with a good rifle and 100 rounds of ammunition – and come soon. Our war-cry is "Liberty or Death." Our principles are to support the Constitution, and DOWN WITH THE USURPER!"
A copy of the Huntsville Democrat made it into the hands of a prominent and influential North Alabamian, Dr. Jack Shackelford. Shortly after reading this plea for help, Shackelford stood in the town square of Courtland, Alabama and made his own plea to the people of Courtland to mobilize and send aid to the suppressed Texans in their aid for independence. After some discussion, several leading citizens of Courtland started donating sizable contributions to equip a company of volunteers for service to Texas. Before long Shackelford had about sixty volunteers ahead of him, of whom they elected Captain. As a third of Courtland's population had volunteered, the remaining citizens of the hamlet also mobilized in making the Volunteer company uniforms, the ladies and children of the town made uniforms for their husbands, fathers, sons, nephews, cousins or friends. There were two uniforms made one for field use the other for dress. Field use consisted of caped hunting frocks and jeans made of a rusty red dyed linsey-woolsey, had large hunting knives strapped to their hips and coonskin caps atop their heads; their dress uniforms were red velveteen jackets and caps worn with white pants and a blue sash. The ladies of Courtland also presented the red clad soldiers with a simple red banner to serve as a company guidon and donned the men, "The Alabama Red Rovers."
On December 12, 1835, the Red Rovers boarded the mule-drawn cars of the Tuscumbia, Courtland and Decatur Railroad for the first leg of their journey to Texas – making the Red Rovers the first military force to be transported by rail. The track of the TC&DRR ended at Tuscumbia where the company boarded the William Penn which took them up the Tennessee River and over to Paducah, where the men transferred to The Kentuckian that carried them down the mighty Mississippi River to New Orleans. After a couple days at New Orleans the Red Rovers started the last leg of their journey to Texas upon the Brutus. The Brutus deposited its very seasick North Alabamian cargo at Dimmit's Landing on January 19, 1836. The Alabamians had about a two-week retreat in their recent locale until their officers could locate what garrison these men were to be sent to. Finally February 4, Shackelford and his men were ordered to a fort at Goliad – and on February 12, the Red Rovers got their first glimpse of the "solidarity and durability" of the fort as they marched into Fort Defiance, the Texian's name for Presidio LaBahia. The Alabama Red Rovers would be the last company sent to the garrison.
After many ignored orders and pleas, Colonel James W. Fannin Jr. orders the evacuation of the Fort on March 19th. The Red Rovers would be Fannin's vanguard on his exodus. Later in the day the Mexican Army surrounded the Texians in what would become the Battle of Coleto Creek. The next day Fannin surrendered his men and arms to Mexican General Jose Urrea, this day was also Shackelford's forty-sixth birthday. Fannin's command was taken back to Presidio LaBahia and held as prisoners. On Palm Sunday, March 27, 1836, all of Fannin's men that were well enough to travel were marched from the wall under false pretenses, and with a couple miles of the Fort, they were halted and immediately massacred. The wounded at the Fort were dragged out of the church and executed to the screams of "Oh God! Oh God! Spare us!"
Shackelford was spared for his medical experience; some of those screams were from his eldest son, nephews, and and apprentice doctor under him. Fifteen Red Rovers were able to escape the gruesome death of their comrades by being in the advance, running from the bullets or like Shackelford, experience. Dr. Shackelford returned home to Courtland alone on July 9, 1836.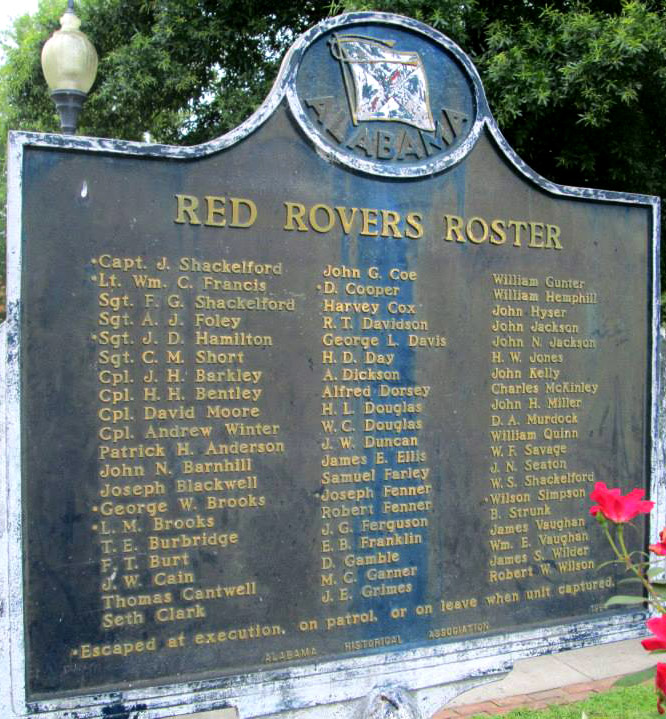 The most complete roster of the Alabama Red Rovers is as follows:
Capt. Jack Shackelford
1stLt. Francis S. Early
2ndLt. William C. Francis
1stSgt. Fortunatus Sydney Shackelford
2ndSgt. Issac D. Hamilton
3rdSgt. Arthur G. Foley
4thSgt. Zachariah H. Short
1stCpl. Henry Hogue Bentley
2nd CorporalDavid Moore
3rd CorporalJohn H. Barkley
4th Corporal Andrew Winter
Pvt. Patrick H. Anderson
Dr. Joseph Henry Barnard
Pvt. John N. Barnhill
Pvt. Joseph H. Blackwell
Pvt. William Procter Bowhay
Pvt. G. W. Brooks
Pvt. Zachariah S. Brooks
Pvt. Thomas Burbridge
Pvt. Benjamin Franklin Burt
Pvt. J. W. Cain
Pvt. Thomas Cantwell
Pvt. Seth Clark
Pvt. John G. Coe
Pvt. Stith Conner
Pvt. Dillard Cooper
Pvt. Harvey Cox
Pvt. Robert T. Davidson
Pvt. George A. Davis
Pvt. G. L. Davis
Pvt. H. B. Day
Pvt. Silas DeWitt
Pvt. Abijah Hogan Dickson
Pvt. Alfred Dorsey
Pvt. Henry L. Douglass
Pvt. William G. Douglass
Pvt. James W. Duncan
Pvt. James E. Ellis
Pvt. Samuel Farney
Pvt. Joseph Fenner
Pvt. Robert Fenner
Pvt. Joseph G. Ferguson
Pvt. Elijah B. Franklin
Pvt. David Gamble
Pvt. M. C. Garner
Pvt. James H. Grimes
Pvt. William Gunter
Pvt. William Hemphill
Musc. John Hiser
Pvt. Milton Irish
Pvt. John Jackson
Pvt. John N. Jackson
Pvt. Henry W. Jones
Pvt. John Kelley
Pvt. E. Laddington
Pvt. Charles W. McKinley
Pvt. Isaac H. Miller
Pvt. David A. Murdock
Pvt. William Quinn
Pvt. W. F. Savage
Pvt. J. M. Seaton
Pvt. William J. Shackelford
Pvt. Wilson Simpson
Pvt. Bennett Strunk
Pvt. Simpson Tennant
Pvt. James Vaughan
Pvt. William E. Vaughan
Pvt. James S. Wilder
Pvt. Robert W. Wilson

by William V. Scott with no comments yet.