This Saturday, November 30th, join us at Fort Martin Scott in  Fredericksburg for "Frontier Days". This is a Living History day in the life of  the Fort as it would have been in 1850, complete with Normal Military,  Paramilitary and Civilian Activities. The scenario is that 'the Fort  is in the midst of construction and a treaty expedition with the Indians is  being assembled at the Fort. The Dragoons (mounted infantrymen) and a company of  Texas Rangers are to accompany Indian Agent, Judge John H. Rollins to the  council grounds on the San Saba River'. Visitors are encouraged to  visit the various Fort buildings and tents, which will be occupied by Soldiers,  Rangers and Civilians going about their daily lives. All of the living history  interpreters will visit with you as their various duties permit. A full day  Re-Enactments, Pioneer Crafts, Period Dress, Chuck Wagon Cooking, Native  Americans, Old West Shootouts, Western Authors, Musicians and  Storytellers.
This is the first of four annual events scheduled at the Fort to be  presented by the City of Fredericksburg, the  Fort Martin Scott Committee and the Fort  Martin Scott Friends. I've attached some promotional material for  your perusal and some information on membership, as well. We certainly hope you  can join us this Saturday, the weather's going to be beautiful and FREE  ADMISSION TO ALL!
Kindest Regards,
Duke Davis, Executive Director
Fort Martin Scott Friends
1406 E. Main, Suite 200
Fredericksburg, TX 78624
---
---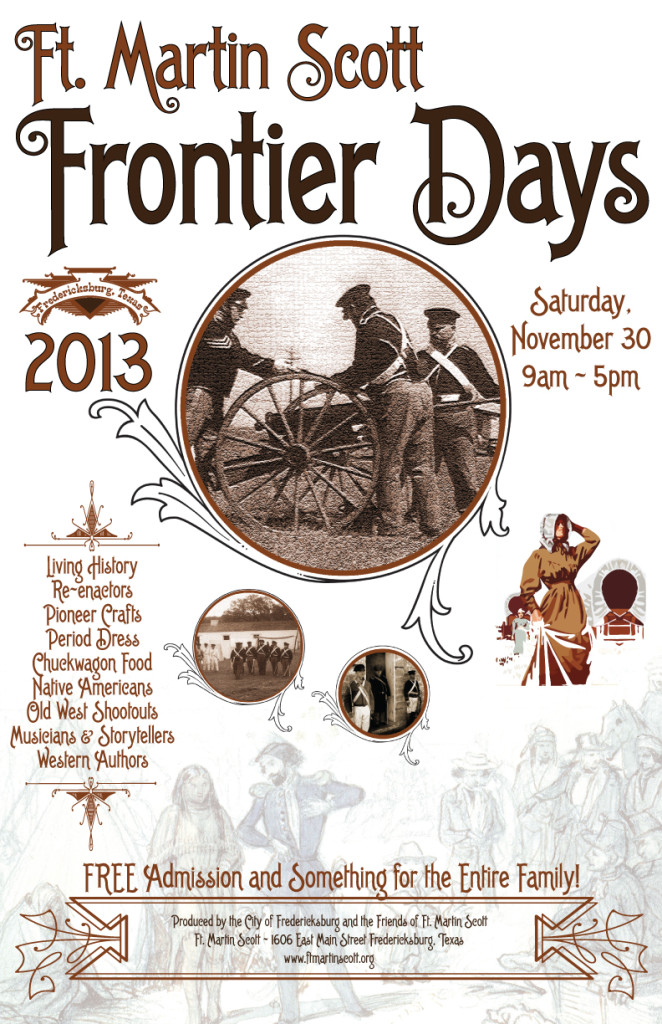 Posted in Event Information and tagged Fort Martin Scott, Fredericksburg, Frontier Days, Living History, Texas by William V. Scott with

comments disabled

.