Captain Shackelford's Company
of
Alabama Red Rovers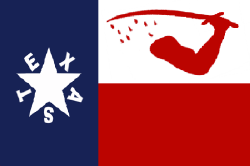 Sponsors the
Fort Defiance Garrison – 1836
Presidio LaBahia – Goliad, Texas
22 February 2014
Colonel James Walker Fannin took command of the old Spanish fort of Presidio LaBahia and garrisoned his two battalions of Texians Volunteers there in February and March of 1836, Fannin renamed the fort, Fort Defiance. Fannin's demise would occur when he left Fort Defiance and surrendered after the battle of Coleto Creek, when his men were brought back to the fort they had abandoned whom the victors had converted to a holding cell until the actions of Palm Sunday 1836, when Fannin's Texian volunteers were taken from the fort and massacred in the surrounding fields of the fort.


Captain Shackelford's Company of Alabama Red Rovers is sponsoring an event recreating the interim time of Colonel Fannin at his "Fort Defiance" on February 22, 2014. All participants will need to be affiliated with a company, there will be no independents. Company commanders will be expected to police and regulate authenticity of their own companies. This event is geared to represent life of these Texians, doing military duties, fatigue duties, posting of guards and sentries and all things proper of a Garrison of this period during the Texas War of Independence. The different Volunteer Companies will be camping is designated area based on the Chadwick Map of the Garrison. Unless you are staff, please plan to bring a tent and camp in the quadrangle. Do to the historical date of the event there will be special festivities honoring General Washington's Birthday. All meals will be furnished for the duration of the event, with this there is Pre-Registration and a Registration Fee of $15.00, once on-site there will be Registration and release forms to be signed.


The Volunteer Companies that were in Garrison in February 1836 were:
Duval's Company, Kentucky Mustangs
Wadsworth's Company, First Company
Winn's Company, Third Company
Ticknor's Company, Alabama Greys
Bullock's Company, Second Company
Shackelford's Company, the "Red Rovers,"
Bradford's Company, Huntsville Volunteers
Guerra's Company, A small company of Mexican artillery
Burke's Company, Mobile Greys
Thornton's Regulars
Artillery
Madame Garcia's ladies
If you interested in portraying one of these units, please contact William Scott ([email protected]) or David Vickers ([email protected]). Some units have already been designated.
PDF Form:   Fort Defiance Registration Form 2014

Posted in Event Information and tagged Fort Defiance, Goliad, Presidio LaBahia, Texas by William V. Scott
This Saturday, November 30th, join us at Fort Martin Scott in  Fredericksburg for "Frontier Days". This is a Living History day in the life of  the Fort as it would have been in 1850, complete with Normal Military,  Paramilitary and Civilian Activities. The scenario is that 'the Fort  is in the midst of construction and a treaty expedition with the Indians is  being assembled at the Fort. The Dragoons (mounted infantrymen) and a company of  Texas Rangers are to accompany Indian Agent, Judge John H. Rollins to the  council grounds on the San Saba River'. Visitors are encouraged to  visit the various Fort buildings and tents, which will be occupied by Soldiers,  Rangers and Civilians going about their daily lives. All of the living history  interpreters will visit with you as their various duties permit. A full day  Re-Enactments, Pioneer Crafts, Period Dress, Chuck Wagon Cooking, Native  Americans, Old West Shootouts, Western Authors, Musicians and  Storytellers.
This is the first of four annual events scheduled at the Fort to be  presented by the City of Fredericksburg, the  Fort Martin Scott Committee and the Fort  Martin Scott Friends. I've attached some promotional material for  your perusal and some information on membership, as well. We certainly hope you  can join us this Saturday, the weather's going to be beautiful and FREE  ADMISSION TO ALL!
Kindest Regards,
Duke Davis, Executive Director
Fort Martin Scott Friends
1406 E. Main, Suite 200
Fredericksburg, TX 78624
---
---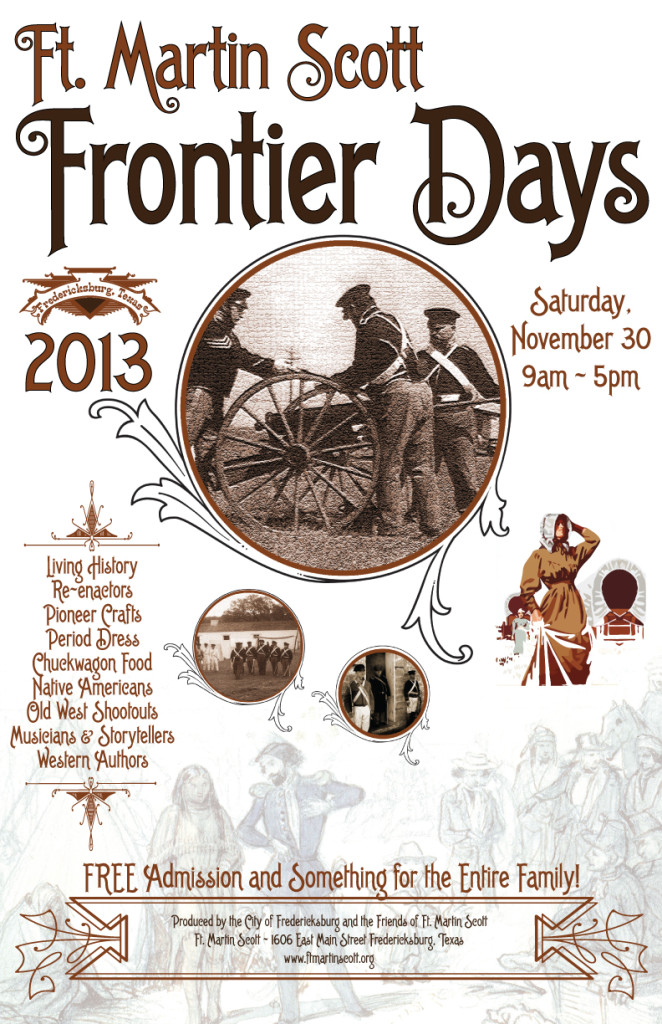 Posted in Event Information and tagged Fort Martin Scott, Fredericksburg, Frontier Days, Living History, Texas by William V. Scott